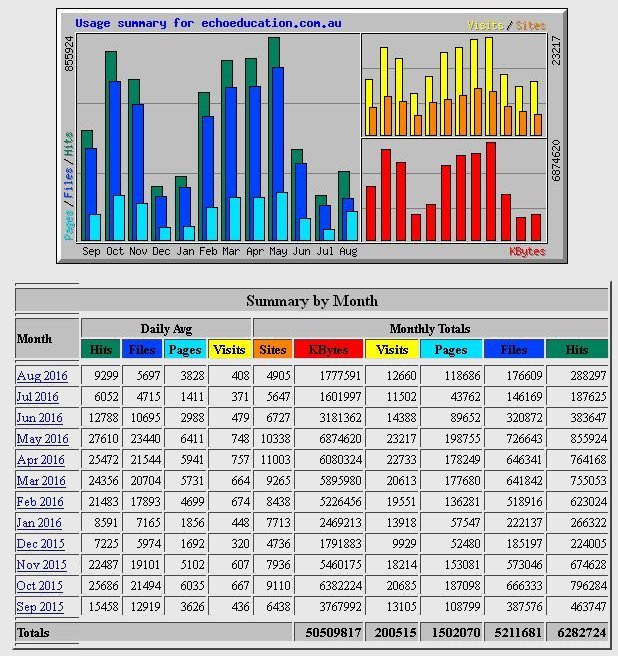 The short version of why Echo does not keep individual subscribers' useage statistics.
Echo Education Services provides, via its website, a selective index to three Australian newspapers stretching back well over twenty years. In addition, after a year of experimentation, the newspaper index now carries selected background and comment in video and text form from the wider internet.

The main aim of the newspaper index is to provide a source of up-to-date information on current media issues, as well as background on past such issues.

The other main section of the Echo Online website is a collection of treatments of media issues - Issue Outlines - compiled and written at the time when they were a media issue. On the "front page" of the Echo issue outline section, there is a search facility to enable users to run a word-search to find Issue Outlines of interest to them.

These Issue Outlines, along with the newspaper index, are unique, as far as we can ascertain, to Echo Online.

The Echo newspaper index and the Echo Issue Outlines are easily accessible in the form in which they are presented. We do not co-operate with so-called "federated searches", although we have no objection to subscribers linking Echo Online to those "federated searches" if they can.

Echo Education Services has also been asked if we are compliant with schemes (there are several, it seems) that allegedly allow subscribing schools access to statistics on how much and how frequently use is made of Echo Online within that school. We are not. Nor do we intend to be. It's not our job.

Considerable expense would be involved in our becoming "compliant", taking into account each scheme's "membership" costs, "reporting" costs and the extra working hours involved in compiling such statistics as the collection "software" can glean (the "software" has had many versions and is obviously still a work in progress) any report compiled by Echo staff apparently has to be "audited" by a chartered accountant - who also won't work for nothing.

The cost in set-up and extra wages involved in "compliance" would see Echo Online either cease production or raise its subscription cost by a minimum fifty per cent, but probably by much more. We're not a giant publishing firm that can absorb these costs, but a small crew of mainly part-time contributors, serving a limited clientele.

Our advice to those who need to know how many people use the Echo Online website is to simply go and ask those people. There are also reasonably-priced software packages that can track internally what happens on networked computers. Overall statistics for the twelve months to the end of August 2016 are at right.

We at Echo contract with subscribers to supply our unique service to schools' and tertiary institutions' teachers and students. We do not contract to do anything else.