.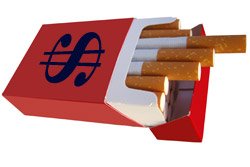 Found a word you're not familiar with? Double-click that word to bring up a dictionary reference to it. The dictionary page includes an audio sound file with which to actually hear the word said.

Further implications

If, as opinion polls suggest will be the case, a Coalition government is elected on September 7, 2013, it will be interesting to see whether it proceeds with the Rudd government's planned increase in excise on tobacco products. The Opposition has given a mixed response to this proposal.
Historically, Liberal-National governments are less likely to adopt such policies which they tends to regard as unwarranted intrusions on decisions that people should be left to make for themselves.
Such measures are usually condemned by their opponents as the work of the 'nanny state', that is, governments that try to manage or control different aspects of voters' lives in the name of protecting them from harm. A wide range of laws and provisions, we now take for granted, have initially been condemned by their opponents as 'nanny state' intrusions. These include taxes on Alcopops, the compulsory wearing of seatbelts, the compulsory wearing of bike helmets and even the introduction of Medicare (then termed Medibank).
However, Australia has been highly successful over the last thirty years in discouraging smoking via a variety of strategies, which have included increasing the cost of tobacco products. The last tax increase brought in under Kevin Rudd's government is generally acknowledged to have led to a reduction in smoking in Australia.
Critics of the Coalition's opposition to such measures have sometimes accused them of acting out of self-interest as huge international tobacco companies have been substantial contributors to their party funds. (In 2004 the Labor Party changed its party funding policies to prohibit accepting donations from tobacco companies.)
In 2011 the Labor Party claimed that 97 per cent of British American Tobacco's political donations worldwide in 2010 went to the Liberal and National parties.
The then health minister, Nicola Roxon, stated in parliament, 'British American Tobacco, according to their own figures, made political donations in only three countries around the world in 2010.
In Canada, they made a donation of 1,000 Pounds ($1,500), in the Solomon Islands they made a donation of 2,000 Pounds ($3,000) and in Australia they made a donation, just to two parties in this place of 111,000 Pounds ($170, 720).
However, on August 22, 2013, Tony Abbott, as leader of the Liberal Party, pledged that his party would no longer accept donations from tobacco companies. It will be interesting to note whether this change in donations policy results in any change in attitude within the Liberal Party on smoking-related issues. For example, the Liberal Party has consistently opposed the introduction of plain packaging of cigarettes.
(Controlling donations to political parties remains a complex issue, as, for example, a tobacco company might continue to contribute to any political party via an associate company that was not obviously a tobacco producer.)
The Opposition has, in common with the Government, the medium-term goal of returning the nation's budget to surplus. During the election campaign, the Opposition indicated that it would attempt to do this over the next ten years. This relatively modest target would presumably be assisted by retaining the proposed increase in tobacco excise. Economic considerations may well encourage any new Coalition government to retain the scheduled increases in tobacco excise.