.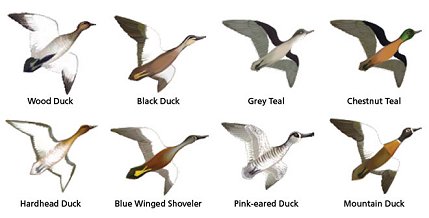 Right: Know your waterfowl. Identification tests, often cited as an indication of responsible management by duck shooting enthusiasts, have actually been dispensed with in some circumstances, under the new regulations.

---

Found a word you're not familiar with? Double-click that word to bring up a dictionary reference to it. The dictionary page includes an audio sound file with which to actually hear the word said.

Background information

The new regulations liberalise or free up the terms under which whole groups of people are able to hunt ducks in Victoria.
These new regulations ...
a) exempt juniors from paying a Game Licence fee.
b) create a new 'Provisional' Game Licence to allow juniors (12-17 years old) to hunt under adult supervision without sitting the Waterfowl Identification Test or the Hound Hunting Test.
c) create a new 14-day non-resident Game Licence to facilitate game hunting by visitors to Australia.
d) create a new 7-day Game Bird Farm Hunting Licence that will be free of charge.

In the name of public safety, the new regulations also restrict the access of non-hunters to duck hunting areas.
a) The Wildlife (Game) Regulations 2012 identify 227 duck hunting areas to which access by unauthorised persons is restricted between the following hours:
i) midnight on the opening day of the duck season, until 10:00am on that day; and from two hours before sunset on the opening day until 10.00 am of the following day and for every other day of the open season
ii) on the last day of the open season, the prohibited period ends 30 minutes after sunset.
b) The areas to which the restrictions apply include all 186 Victorian State Game Reserves and 41 other important wetlands identified in Schedule 8 of the Wildlife (Game) Regulations 2012.
c) The restriction does not apply to the whole of the reserve. It only applies to the waterbody and extends out to 25 metres from the water's edge
d) To be authorised to be present in the prohibited sections of these specified hunting areas during prohibited times, you must hold a current Victorian Firearms Licence (or interstate equivalent) and a current Game Licence endorsed for game birds including duck, or be exempt by the Secretary Department of Primary Industries.
e) It is an offence for an unauthorised person to approach within 10 metres of a person who is carrying a firearm or actively hunting ducks in specified hunting areas during the duck season
This offence applies throughout the duck season and to the same 227 specified hunting areas.
Protestors who place themselves in close proximity to hunters, whether to disrupt hunters from shooting, scare away birds or collect unretrieved birds, can place themselves in extreme danger of being injured or even killed.
f) It is an offence for anyone to interfere with, harass, hinder or obstruct a person engaged in hunting at any location and time.