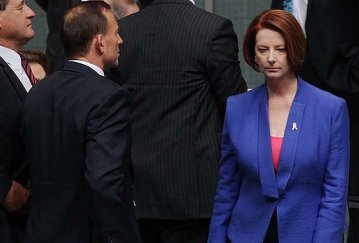 Right: behind the scenes; Alex Ellinghausen, of the Sydney Morning Herald, photographed the Prime Minister and Opposition leader ignoring each other immediately after the famous "misogyny" speech.

---

Found a word you're not familiar with? Double-click that word to bring up a dictionary reference to it. The dictionary page includes an audio sound file with which to actually hear the word said.
Further implications

The circumstances surrounding the removal of Julia Gillard from the leadership of her party and thus from the Australian prime ministership will be debated for a long time. It is clearly arguable that Ms Gillard's unpopularity with voters was in large part a reaction to a combination of policy failures and her inadequate communication skills. It is also clear that there has been continuing instability within her own party, focused on her leadership, that she was unable to overcome. However, even given this, objective evidence exists of a wide range of highly offensive and often sexist material directed at the former prime minister. Much of this has circulated on the Internet in blogs and on Facebook .

Attempts to quantify this abuse and to compare it with that directed at male political figures will form the stuff of theses and other academic studies for years to come. What is immediately apparent, however, is that a lot of the abuse directed at Prime Minister Gillard was gendered. Here we are not speaking merely of a tendency to criticise women on the grounds of their appearance. A large amount of the abuse Julia Gillard received appears to have been more extreme than this. The 'bitch' and 'witch' references are already well-documented. The crude references to genitalia only surfaced in the print and electronic news media toward the end of her prime ministership; however, they had been circulating on the Internet for much longer than this. There too can be found critical references to Ms Gillard's sexual behaviour.

What is also remarkable are the number of references to Julia Gillard's marital status and her lack of children. The 'deliberately...barren' tag was first applied by an opponent from the other side of politics, Bill Heffernan, and later expanded upon by a former political ally, Mark Latham, to include the accusation that her childlessness suggested a limited capacity to love. These are highly personal observations of doubtful validity and questionable political relevance and so not the sort of comments that would normally receive wide circulation in the media; yet, in Gillard's case, these accusations were reported on and have persisted. In regard to Mark Latham's claims, they were actually re-raised with him in a Radio National interview, which itself was then reported on in the wider media. Therefore, even before exhaustive study of Julia Gillard's reception by the electorate, her political contemporaries and the media has been undertaken, it can be recognised that her gender has repeatedly been used as a weapon against her.

It is disturbing that in the twenty-first century sexism and misogyny are still sufficiently alive to allow being female to be used as the material for abuse. However, it is notable that the capacity to post anonymously on the Internet has created an environment where abuse of all kinds can flourish. It is also notable that such subterranean abuse has leached into mainstream media, in particular onto radio. There, via the shock jocks and other supposedly more moderate presenters, it has been used to fuel a ratings-driven hunger for sensation. It is regrettable that Australia's first female prime minister became fodder for this feeding frenzy.

There are many lessons about gender equality to be taken from this episode in Australia's political history. There are also lessons to be learnt about civil society and civil political discourse.