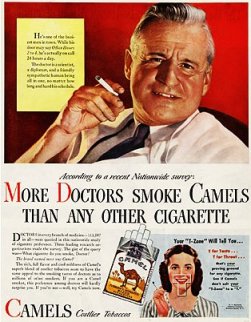 Right: advertisements like this were commonplace in the fifties and early sixties. Today, tobacco companies' ads and promotions are almost non-existent in Australia.

---

Found a word you're not familiar with? Double-click that word to bring up a dictionary reference to it. The dictionary page includes an audio sound file with which to actually hear the word said.

Arguments against smoking being banned in any public space

1. There is insufficient evidence to claim that second-hand smoke in many open spaces is harmful
It has been claimed that second-hand smoke encountered via brief exposure in an area outside a building or on a footpath is not sufficient to cause harm to non-smokers.
Michael B. Siegel, a professor of community health sciences at the Boston University School of Public Health, has stated, 'No evidence demonstrates that the duration of outdoor exposure - in places where people can move freely about - is long enough to cause substantial health damage.'
Professor Siegel, who opposes smoking, has also argued that seeking to ban smoking in all public spaces is such an unreasonably extreme measure that it will discredit the anti-smoking movement.
Professor Siegel has claimed, 'In trying to convince people that even transient exposure to second-hand smoke is a potentially deadly hazard, smoking opponents risk losing scientific credibility ...[A] ban on outdoor smoking seems to fulfil its opponents' charge that the [anti-smoking] movement is being driven...by an unthinking hatred of tobacco smoke.'
Similarly, Dr Becky Freeman, a public health researcher at the University of Sydney, has stated, 'When it comes to fleeting exposure in wide open outdoor spaces, there is little evidence to support that this type of second-hand smoke exposure is a public health issue. Completely banning smoking in all outdoor areas cannot be justified on the grounds that the exposure to the resulting second-hand smoke is of significant harm.'
Some of those agencies opposed to smoking in open public spaces have argued for this ban on grounds other than health, apparently indicating that health concerns are not the primary grounds for their supporting this prohibition. The Cancer Council of Victoria has noted that there is less exposure to second-hand smoke in outdoor settings and that banning smoking may in some situations 'be chiefly about nuisance rather than public health risk'.

2. Smoking is not illegal and banning it in all public spaces is an infringement of smokers' rights
It has been claimed that while smoking remains a legal activity in Australia, those who purchase this legal product should be allowed to consume it. Given that smoking is illegal in all enclosed public spaces, if a similar ban were imposed on all open public spaces then it would become virtually impossible for smokers to have an opportunity to smoke.
This argument has been put by Alan Davies, in an opinion piece published in Crikey on February 2, 2013. Davies has stated, 'Smoking is a legal activity, so there should always be somewhere convenient smokers can go for a fag. If that means the four-fifths have to briefly put up with the smell of smoke on the footpath as they pass by from time to time then that's unpleasant and a nuisance, perhaps it's even an aesthetic outrage, but it's not a major sacrifice.'
Davies has further argued that a prohibition on smoking in open public places would effectively deny smokers access to many public amenities and other facilities which as citizens they are entitled to avail themselves of.
Davies has argued, 'It would effectively limit the scope of smokers to participate in the public life of the city. That's not a trivial matter, as many of the key metropolitan institutions and attractions are located within the City of Melbourne.'
Melbourne city resident Rebecca Jarvis, 29, has said a ban on smoking in alfresco areas would breach civil liberties.
Ms Jarvis has stated, 'Smoking is a huge part of Melbourne's cultural fabric. We have a right to enjoy our vices in this state.'
The Express, a local newspaper servicing the Latrobe Shire in Gippsland, conducted a Facebook survey among its readers to gain their reaction to a total ban on smoking in public spaces.
One of the respondents, Merryn Price, noted that if such bans were imposed, people would stop attending community activities, while another, Allie Kohana, observed that if smoking were subjected to such restrictions there should be a blanket ban on all tobacco/nicotine products being sold, adding this would 'never happen' due to lost tax revenue. Ms Kohana's implication appeared to be that it was hypocritical to allow the sale of a substance from which governments generated tax revenue and then to deny its consumers an opportunity to use it.
A similar point was made by Meryl Shenker of Vaucluse in a letter to the editor published in The Sydney Morning Herald on March 3, 2013. Ms Shenker stated, 'You can't approve the sale of cigarettes then rule that we can't smoke them anywhere. This is hypocrisy... While cigarettes are legal, we need to arrive at a compromise that will accommodate both parties. It is too easy for non-smokers to expect us to abstain. Nicotine is one of the hardest drugs to overcome.'

3. A total ban on smoking in public spaces would be very difficult to enforce
It has been claimed that a total ban on smoking in all public spaces would be extremely difficult to enforce.
This is the position taken by Melbourne's lord-mayor, Robert Doyle, who has argued, 'I am more against smoking than anybody I know. My mother died very painfully of lung cancer, directly caused by cigarette smoking, a few years ago, so I have been very personally touched by the effects of lung cancer caused by smoking...
[However] if it is not enforceable then a law becomes a laughing stock. A city-wide ban would not be enforceable.'
Allen Davies, in an opinion piece published in Crikey on February 2, 2013, stated, 'It's not a good idea to make laws that can't be enforced easily or cost-effectively and are likely to be ignored. The city centre is a popular metropolitan-wide destination for night life - it's probable there'd be many smokers who after a few drinks would ignore any ban.'
Similarly, Kylie Lindorff, Quit Victoria's manager of tobacco policy, has indicated that a total ban on smoking in public places was not on the organisation's agenda at this stage.
Ms Lindorff stated, 'The main reason is because we think it would be difficult to enforce.'
A study conducted by The Herald Sun in February 2013 among the twelve largest Victorian councils which had imposed bans on smoking at playgrounds, beaches, sporting fields, malls, carparks, pools and bus stops found that only two had imposed any fines for smoking in public spaces over the previous two years.
Fiona Sharkie, Quit Executive Director, has stated, 'Local councils have the responsibility of issuing fines, but that tends to be the job of council officers who do lots of other things. So whether there is enough people power or resources behind the enforcement could be why you probably see numbers like that.'

4. A ban on smoking in all public places would cause financial harm to restaurateurs and others
Many restaurateurs and hoteliers argue that a ban on smoking in all outdoor eating and drinking areas would seriously harm them financially.
In the face of the anticipated ban on smoking in eating and drinking areas in New South Wales, John Hart, the chief executive officer of Restaurant and Catering , has stated, 'It's a very big change. It's a huge concern. Any sort of reduction in revenues will push businesses to the wall. We have to be very careful that we don't push the industry over the edge.'
Ian Horne of the Australian Hotels Association (referring to the bans on smoking in outdoor eating and drinking areas in Queensland) has stated that venues would be opposed to further changes, having already accommodated tougher laws against smoking indoors.
Mr Horne has stated that it is just over two years since venues spent millions of dollars because of bans on smoking indoors.
Mr Horne has claimed, 'That's caused some real economic tough times for many operators but we accepted it and have embraced it...
The industry also went about spending about $80 million refurbishing their outdoor areas so they could adequately accommodate smokers and non-smokers. This throws all that good work out the door.'
The Australian Hotels Association has claimed that further bans in New South Wales would have a 'wide reaching' effect on not just clubs and pubs but restaurants and cafes.
Ms Sally Fielke, the chief executive officer of the Australian Hotels Association of New South Wales has expressed the same concern as her counterpart in Queensland, claiming that the industry had already spent hundreds of millions conforming to current legislative requirements.

5. The proposed ban is not necessary to discourage the habit
It has been claimed that banning smoking in public spaces is not necessary in order to discourage smoking. According to this line of argument, other measures taken to make smoking unattractive have been very successful, such that this additional measure is not needed.
Alan Davies, in an opinion piece published in Crikey on February 2, 2013, noted, 'There are plenty of other ways to address the social costs of smoking and so far they've been very successful.'
Davies then elaborated, 'As a society, we regulate closely how it can be advertised, packaged and sold. We provide a lot of public information on the appalling costs of smoking, impose high taxes on cigarettes, and subsidise withdrawal programs. It's long been banned in workplaces and indoor public venues...'
The most successful measure in terms of dissuading people from smoking would appear to be price rises caused by increasing the tax put on cigarettes. A New South Wales survey found that 22% of the sample reported that they had quit smoking in May 2010, compared with 13% in April 2010 and 12% in May 2009. The dramatic decline in May 2010 appeared to be a direct response to a price rise following a tax increase in May-July. Respondents interviewed in the three months after the tax increase were significantly more likely to report quitting than those interviewed in the three months before the tax increase.
Quit Victoria gives the following trend data on smoking rates in Australia and in Victoria. 'Smoking rates among adults in Australia have been steadily declining. In 2010, the smoking rate among adults (aged 18 years and over) was 17.5%. The smoking rate has almost halved since 1980.
In 2011, the smoking rate among Victorian adults (aged 18 years and over) was 14.4%. '
The Victorian Government's Better Health Channel Internet site includes the following information; 'Smoking rates for Australians aged 18 and over have declined by over 40 per cent between 1980 and 2007. Ex-smokers outnumber current smokers: in 2007, just over one quarter (25.1 per cent) of Australians had quit smoking during their lifetime. By 2007, 61 per cent of people who had ever smoked had quit.'
Opponents of a total ban on smoking in all public open spaces argue that as a means of discouraging smoking this measure is simply not necessary. There are sufficient other measures in place already.