.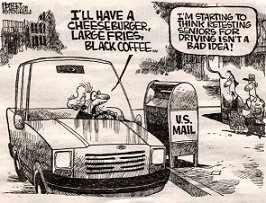 Right: not really all that funny! Stranger incidents have occurred involving elderly drivers, but only to a minority. Most older motorists drive safely and are not part of a high-risk age-group until they are in their late eighties.'

---

Found a word you're not familiar with? Double-click that word to bring up a dictionary reference to it. The dictionary page includes an audio sound file with which to actually hear the word said.

Arguments against special conditions being imposed on elderly Victorian motorists

1. Most older drivers are physically and mentally fit enough to control a car.
In October, 2012, Mark King, a senior lecturer in psychology at the Queensland University of technology, who has for many years researched older drivers, disagreed with those calling for stricter licensing controls, writing that recent research showed that, while a minority of the elderly people studied showed a rapid decline in cognitive ability, most of the group studied showed little or no decline over a period of twenty years.
Research results like this were one of the main reasons behind the Western Australian older-driver requirements being altered in 2012. Where previously, drivers 75 and over were required to pass an annual medical assessment, the 2012 Road Traffic Act amendment dispensed with this provision until the driver turned 80 years of age.
WA's then Transport Minister, Troy Buswell, justified the decision by saying, "Given the ageing population, the State Government is changing the regulations to lessen the unjustified imposition on senior drivers as well as the health system''.
Associate Professor Judith Charlton a Monash University accident researcher, wrote a Herald-Sun article urging more research, not more restrictions, was the answer to the question of ageing drivers. As for introducing restrictions for Victorian drivers, she wrote:
"An Australian study, which evaluated the effectiveness of different licensing systems by comparing the crash rates of drivers over 75 years across the country, found, despite its lack of a mandatory assessment program, Victoria had the lowest older driver crash rate per number of licences issued. Another study found Victorian drivers over 80 performed consistently better than drivers from other states and territories and, in the case of serious injury crashes, the differences were statistically significant."

2. Most older drivers are more cautious and therefore safer motorists than many young drivers
Researcher Mark King writes that `... even the oldest age groups of drivers have lower crash rates than our youngest drivers'.
His research indicates that, older, experienced drivers often recognize their limitations and drive accordingly. For example, by choosing familiar, easy-to-manage driving environments, or by choosing not to drive at night, an older driver shows awareness of his or her slower reactions and decreased night-vision.
Recent VicRoads statistics point to a rising trend in fatalities of older drivers involved in accidents. However, road experts take issue with the raw figures and point out that the elderly are more frail and are more likely to die of injuries than are the young.
Mr King's research also suggests that, while young drivers are more likely to engage in risky behaviour, such as speeding and drink-driving, older drivers are more prone to make errors of judgment.
Thus, while the younger motorist's behaviour can be controlled by enforcement of road laws, older drivers' motoring mistakes (such as waiting unnecessarily long at intersections, for example) are usually not covered by road rules or laws.

3.Older people are not well served by public transport and find it more expensive and less convenient than their cars.
In 2011, Randal O'Toole, of the US Senate sub-committee on Housing, Transportation and Community Development quoted a Transportation For America(TFA) report which predicted that, by 2015, 15 million Americans aged 65 and over would have poor access to public transport. The TFA, along with other mass-transit groups, saw increases in funding as the solution.
O'Toole, writing for the Cato Institute, disagreed with the TFA and similar groups calling for bigger investment in public transport.
O'Toole pointed out that one of these groups, the American Public Transport Association, had published figures to show that people over 65 rode public transport just over half as much as the national average.
While O'Toole was using American statistics, his figures are applicable to many Australian cities, including Melbourne.
Writing for ABC's The Drum, Alan Davies points to behaviourial data showing that "public transport carries less than 10 per cent of all motorised trips within the metropolitan area"
Davies adds that, even journeys to work on public transport make up only 16 per cent of motorised commutes in Melbourne.
These figures indicate that the elderly, especially those elderly with a lifetime of driving behind them, would find it at least as difficult to adjust to using public transport as would the general population. As well, the older public transport user would be faced with often strenuous walks to bus and tram stops, stations etc, and would be exposed to the elements for longer periods. This could have serious health effects on the frail elderly.

4.Older drivers suffer socially and practically if deprived of their right to drive.
A Monash University study led by Dr Judith Charlton and tasked with developing a diagnostic procedure which will identify driving problems in older drivers, has found that taking away an elderly person's driving licence actually has a deleterious effect on his or her physical and mental health.
''We know as soon as we take away a licence from an older person that it has immediate health consequences,'' Dr Charlton said. ''We really have to be really sure we have made the right decision. In 2050 almost one in four people will be over 65, and one in 10 will be over 80. They will be working, going to the gym, spending money in cafes and restaurants, going to the movies and doing everything they can to stay mobile and active."
Dr Charlton is supported in this by VicRoads' director of vehicle and road-use policy, James Holgate, who was quoted in The Age as saying that senior driver testing was costly and stressful for all concerned, adding that restrictions in other states had not been proven to be useful and that "... research has shown those states don't get any better outcome in terms of older driver safety than the Victorian system."

5. Modern safety features and driving aids cars allow the elderly to keep driving safely
Advances in vehicle technology, seen in many television and video advertisements include automatic "sensing" of other cars and obstacles, collision avoidance and braking systems and electronic assistance in parking. There is also research into adapting night-vision systems to car windscreens.
The Australian motoring organization, NRMA, recently published an article on its website entitled, ''The right car for you.'' It was aimed at senior motorists and included a list of desirable features identified by University of Florida researchers for the American Automobile Association. The list included:

Keyless entry
Keyless ignition
Fully adjustable steering wheel
Power-adjustable seats (with lumbar support) and headrests
Large knobs and buttons with contrasting text
Power-adjustable mirrors which are large and wide-angled
Adjustable pedals
Computerised stability control
ABS braking

Most of the above features were not available on the first cars driven by today's elderly and all of them are likely to make an older motorist feel comfortable and in control.