.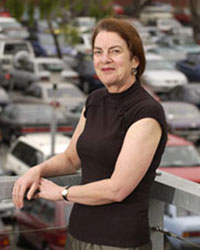 Right: Monash University researcher Dr Judith Charlton undertakes behavioural safety science projects, including an ongoing program aimed at understanding the looming problem of "baby-boomer", ageing motorists.

---

Found a word you're not familiar with? Double-click that word to bring up a dictionary reference to it. The dictionary page includes an audio sound file with which to actually hear the word said.

Background information

Victoria is the only Australian state which does not have special conditions attached to driving licences held by older motorists. There have been calls for this to change and for Victoria's elderly drivers to be subject to conditions such as those imposed by other states, as below:

Western Australia
Drivers aged 80 and over: must complete a medical assessment certificate / renewal declaration each year, along with a medical examination by a doctor, specifically assessing the applicant's fitness to drive.
Drivers aged 85 and over must ALSO pass an annual practical driving test.

South Australia
Drivers aged 70 and over: must pass a medical and eyesight examination each year, as well as having a doctor complete a certificate of fitness to drive.
If the older motorist's licence is only for a car, these requirements are sufficient. However, if the licence is endorsed for other types of vehicle, heavy trucks, for example, a practical driving test must be passed annually by licence holders aged 85 or older.

New South Wales
Drivers aged 75 and over: must pass an annual medical examination, assessing fitness to drive. Drivers aged 85 and over are also required to take and pass a practical driving test every SECOND year.
Modified licences: older motorists may be able to dispense with the regular driving tests by opting to restrict their driving, for example, driving in daylight hours only and / or driving on local roads only. If the older motorist undertakes to accept these restrictions, a modified licence may be issued.

Queensland
Drivers over 75: must only drive with a medical certificate issued by a doctor. This certificate must be carried regardless of whether it discloses medical conditions. However, the certifying doctor is obliged to set out any driving-related medical conditions, as well as what period the certificate should cover and when it should be renewed.

Tasmania
Drivers over 75: must pass an annual medical examination assessing fitness to drive.

With a doubling of drivers over 70 years of age anticipated within the next decade, much private and public research has been undertaken in Australia and other Western countries.
A common finding has been that the elderly often suffer health and psychological problems when deprived of their driving licences.
Against this, elderly drivers are acknowledged to cause accidents through their sometimes-dangerous inability to control their cars.
Australian states, other than Victoria, have opted for restrictions to be placed on elderly drivers. These restrictions vary from state to state, but are mostly to counteract common driving problems associated with ageing, such as deteriorating eyesight and hearing, weakening muscles and stiffening joints. All or any of these conditions have been found to affect older drivers' ability to control a motor vehicle.
There are currently calls for Victoria to impose restrictions on older drivers, in line with the other states.